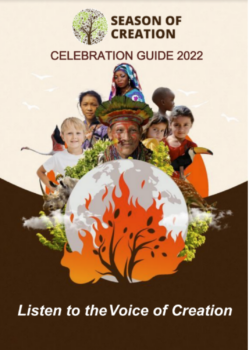 Each year, ACT Alliance members join other Christians around the world to pray, act and advocate for our common home, Earth, by celebrating the ecumenical Season of Creation.
The Season of Creation begins on September 1, the Day of Prayer for Creation, and ends on October 4, the Feast of St. Francis of Assisi, the patron saint of ecology. This year's theme is "Listen to the Voice of Creation," and the urgency of doing so is symbolised by the Burning Bush.
Advocacy
The advocacy suggestions in this year's Celebration Guide are to listen to, reflect upon and amplify the voices and ideas of those who have contributed least to climate change and the loss of biodiversity, but who are most affected by these crises.
Women and girls in all their diversity, youth, and migrants are rarely heard in at the global level where important decisions are made on climate and biodiversity. They have voices and use them to say important things about climate and biodiversity, including local solutions. But they are not heard by those in power. This has meant they cannot access the resources they need to act upon local solutions.
ACT Alliance is getting ready to amplify those voices and concerns about climate at COP27 in Egypt this November. The advocacy suggestions in the Season of Creation Celebration Guide include what people in the communities we serve have asked for, and ideas on how your groups can help amplify their voices and concerns.
How to participate
Please encourage your members to participate in this year's Season of Creation and promote their activities. Visit the Season of Creation website for more information, resources and promotion tools. You can download a copy of the Celebration Guide in English or Spanish, Arabic, French, Italian and Portuguese.
Follow ACT Now for Climate Justice on Twitter for the latest news about the Season of Creation.