The refugee crisis in Greece has not ended, we just have forgotten it.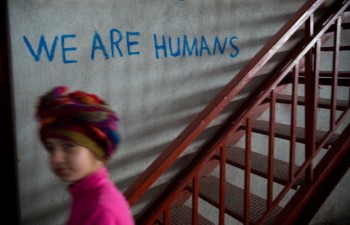 60,000 refugees are trapped in Greece, sometimes in substandard humanitarian conditions. A fact which clearly contrasts with the amount of European assistance pouring into Greece. ACT Alliance EU has joined with 30 other organisations in asking EU Member States to prioritise the immediate transfer of people from overcrowded sites on the Greek islands to facilities on the mainland that meet European standards for reception. In this blog, ACT Alliance EU's Agnes Bertrand explores the issue from her own experience and reflection.
I went to Greece before Christmas to visit camps in Athens and Thessaloniki where ACT members are active. The camp conditions are all well below international humanitarian standards. I saw hundreds of people living in conditions unacceptable in Europe and in many other parts of the world -not to mention the harsh winter conditions which have considerably worsened after my visit and put thousands in life-threatening situations.
Malakasa is a former weapons storage center near Athens hosting approximately 800 people who still have very limited access to electricity. Progressively, residents have been removed from tents to be housed in containers that were unused and forgotten after the earthquake of 1999.
In Oinofita (also near Athens), about 680 Afghans of all ages are crowding a former chemical factory living in tents or in improvised rooms measuring 4mx4m. They can access electricity but have no heating systems.
Oreaokastro, a former abandoned tobacco factory hosts 1,100 Syrians under tents without adequate electricity – a few generators try to cope with the heating and hot water needs of the residents, but in effect there is no suitable heating system and irregular access to hot water. Security conditions in this camp are challenging and there are allegations that a small number of occupants are involved in illegal activities.
I was told that reception facilities – i.e. refugee camps, buildings or other accommodation where refugees are housed vary significantly around the country's 55 sites. On the islands, the overall accommodation capacity of so-called hotspots is set at 7,450. But in reality about 13,000 refugees are living in overcrowded and dangerous conditions there. More are arriving every day.
My visit coincided with the announcement by the European Commission to resume "Dublin transfers" to Greece starting in March 2017 – i.e. the transfer of asylum seekers who have moved on to other countries after being registered to the responsible state to be processed. Dublin transfers to Greece were suspended from the EU's Dublin Regulation in 2011 after the European Court of Human Rights and the European Court of Justice found that the Greek asylum system and reception conditions systematically failed to meet basic human rights standards. It seems absurd to imagine conditions have improved since then.
Has Europe abandoned refugees in Greece?
At first glance, the answer is no, if one takes into account the fact that the EU is providing €1 billion of support to Greece, including €700 million in humanitarian assistance. Some €198 million has already been disbursed via ECHO, the Directorate-General for European Civil Protection and Humanitarian Aid Operations.
This total sum is to be spent on a population of around 60 000 refugees currently– girls, boys, women and men who have fled their homes and are seeking a safe future in Europe.
This would be an adequate amount of money, plenty in fact compared to what other refugee-hosting countries get. With this amount of money one would expect the reception conditions for asylum seekers to be good. The contrast in these conditions between 'traditional' asylum hosting countries and Greece is stark, and certainly not what one could reasonably expect from a European country.
What went wrong?
On the one hand, this appalling humanitarian situation is the result of the absence of a long-term strategic plan for refugees in Greece which is largely due to the fact that most of the asylum-seekers are not expected to stay in the country. Those who arrived before 22 March 2016 – which was when the EU-Turkey deal was agreed — may be eligible to be relocated to another European country where they can then apply for asylum. In September 2015, the European Council announced it would relocate 160,000 asylum-seekers from Greece and Italy. The process is complex and a lack of political will within the EU Member States has slowed the desire of Member States to live up to their pledges. Since 2015, only 8,162 ( 6,212 from Greece) have been relocated to other European countries. This situation creates a sense of hopelessness for asylum-seekers due to the indeterminacy of their futures: they simply do not know what will happen to them or when.
On the other hand, nothing is being done to really improve the reception conditions in Greece and for this the responsibility is to be shared between different stakeholders -the Greek authorities principally, who are responsible for the reception conditions awaiting the asylum-seekers. One cause for this is the poor coordination and miscommunication between the Greek Ministry of Migration, the Army and the Air Force, which are mostly responsible for the management of the refugee camps. The seeming absence of well-functioning working arrangements between Greece and the UNHCR does not set the stage for smooth cooperation. On top of that, ECHO has set up a separate coordination mechanism for its humanitarian partner organisations, duplicating and undermining the UNHCR's role. In addition, most international and local humanitarian organisations do not have access to a proper registry of the asylum-seekers from the Greek authorities. Although this is for privacy reasons it makes it hard for the organisations to quantify the exact number of refugees actually living in the camps, as well as their needs – especially the most vulnerable– and therefore to provide adequately and appropriately for them. Furthermore, asylum-seekers are also scattered across the country in too many sites, which makes it difficult for NGOs to plan and operate.
What should Europe do?
Europe's leaders should ensure that asylum-seekers arriving in Europe are treated humanely, responsibly and that their rights are safeguarded. ACT Alliance EU together with 30 other organisations have asked EU Member States to prioritise the immediate transfer of people from overcrowded sites on the Greek islands; to open facilities on the Greek mainland which meet Europe's legal standards for reception; to enable swift and efficient access to family reunification, relocation and a secure refugee status and to ensure that every person has access to protection and to a fair and efficient asylum process (you can read the full statement here.) This is the least they can do.
The appalling circumstances in which refugees find themselves can be seen for many as a short-term deterrent to refugees who may consider coming to Europe. But it is inhumane. And it is a non-response and a non-policy in the face of the challenges posed by conflicts now raging in Europe's backyard.
ACT Alliance members Norwegian Church Aid, Finn Church Aid and Diakonie Katastrophenhilfe are involved in providing assistance to refugees in Greece in the field of protection, WASH and education.