ACT Alliance is committed to confronting the climate change crisis which is inhibiting sustainable development and is contributing to more frequent humanitarian catastrophes around the world. ACT endorses the urgent call to limit warming to 1.5°C to prevent irreversible damage and confirms Climate Justice as a key priority in its new Global Strategy (2019-2026).
The ACT Now for Climate Justice Campaign, launched in 2014 at ACT's second General Assembly, has been an instrumental platform for mobilising faith communities and ACT members and forums around the world. With the aim of harnessing the skills of ACT's Climate justice network to engage in climate advocacy at the national and international level, ACT's Global Climate Justice Project was launched in 2017. The project is in its third year of implementation and has been a crucial contribution to ACT's effectiveness as a leading, trusted and often sought faith voice in the climate movement.
"Bringing participants together facilitates ACT members and forums to build solid relationships and partnerships with their respective national governments and each other. This is needed for a long-lasting and inclusive regional climate movement," says Arnold Ambundo, ACT's Climate Justice Officer.
Harnessing the capacities of ACT members
The Global Climate Justice Project harnesses a culture of learning and sharing from ACT's faith-inspired members and forums around the world. The project aims to galvanise faith voices and leaders to bring to life our shared vision for a more resilient and sustainable future, one which complements the efforts of ACT's frontline and most climate vulnerable communities.
ACT has embraced a blended learning module to strengthen the capacity of members to engage in national and international climate advocacy. Participants learn and benefit from ACT's online Advocacy Academy as well as a face-to-face workshop.
Through ACT's Advocacy Academy, participants learn about ACT's ongoing climate work and develop the tools and skillset to be able to plan and implement relevant advocacy initiatives and campaigns to mobilise communities and influence decision makers.
"During the face to face climate justice advocacy workshops, participants share country experiences on climate action and through ACT Advocacy Academy they are able to further connect and collaborate with ACT forums and experts across the globe to address climate risks facing the communities they serve," continues Arnold.
Participants who complete the online Climate Justice module as well as the face to face training graduate from ACT's Climate Justice Module and join ACT's network of Climate Justice Advocates.
To date, approximately 160 people from ACT's network in 40 countries and five regions have been trained. Many participants have since worked with local governments, academic institutions, civil society and other stakeholders to enhance their climate actions in line with the Paris Agreement, the Sendai Framework for Disaster Risk Reduction, and the Sustainable Development Goals.
For more information on the workshops, contact Arnold Ambundo, ACT's Climate Justice Officer (Arnold.Ambundo@actalliance.org).
Upcoming workshop dates: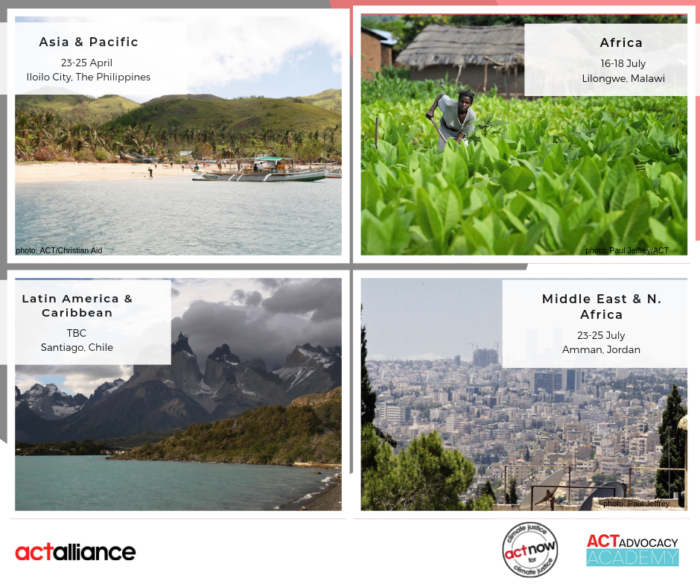 ACT's Online Climate Justice Module
More information on ACT's Advocacy Academy and the online Climate Justice Module is available online. The module is free for all ACT members. Deadline to Apply – June 3rd 2019.
ACT with us!