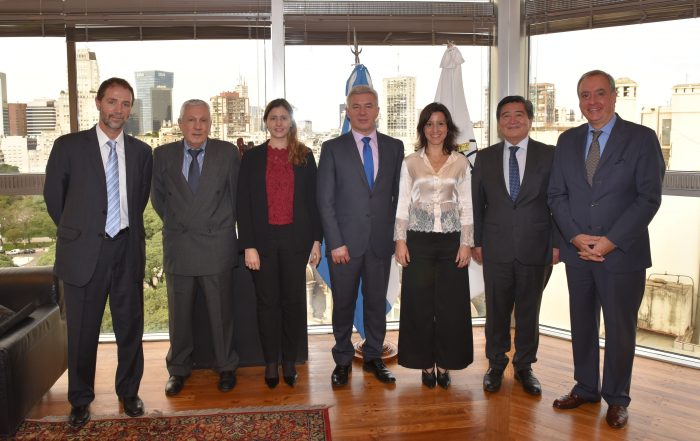 Last Monday the ACT General Secretary, Rudelmar Bueno de Faria, met in Buenos Aires with the President of the White Helmets Commission of the Argentine Foreign Ministry, Ambassador Alejandro Daneri (first on the right). Discussions revolved around the possibilities of synergy between both institutions, both in relation to the humanitarian missions carried out by White Helmets in Africa and Latin America, and in strengthening in Argentina the resilience capacity of communities and the promotion of innovative actions.
ACT General Secretary was accompanied by Nicolás Rosenthal, Executive Director of Protestant Foundation Hora de Obrar and Coordinator of the ACT Alliance Argentina Forum, and by Humberto Shikiya, General Secretary of CREAS and member of the ACT Membership and Nominations Committee.
Ambassador Daneri was accompanied by Ambassador Alejandro Nieto and Mrs María Mercedes Dalla Via, representing the White Helmets, and Ambassador Claudia Russo Bernagozzi, for the Worship Secretariat.
ACT Alliance is the largest global Christian alliance of Protestant and Orthodox churches and organizations dedicated to humanitarian aid, transformative development and public-political advocacy. It is present in more than 100 countries, through 146 organizations, with a global budget of 3.5 billion dollars.
Source: Fundación Protestante Hora de Obrar