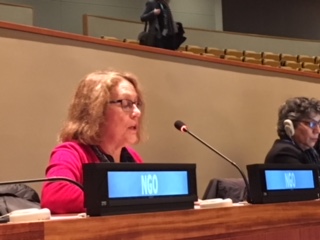 On March 21, 2018, Alison Kelly, ACT Alliance's Sustainable Development and UN Representative, presented an oral statement on behalf of ACT, the Lutheran World Federation and the World Council of Churches at the 62nd Commission on the Status of Women at the UN.
"As networks of Churches and Christian faith based organizations working in humanitarian response and human rights-based development in over 145 countries – in rural areas that are often out of the institutional reach of national governments – we call for an end to gender inequality and injustice," the statement began.
ACT, LWF and WCC focused on the role of faith actors in combatting harmful practices including early marriage and female genital mutilation. "The importance of involving faith actors cannot be overemphasized, as they can play critical and influential roles and have the potential to bring lasting change… churches in Uganda, Ethiopia, Tanzania and Zimbabwe have intentionally targeted support to vulnerable women and girls in rural communities. Their deliberate efforts to promote gender justice within the church structures, schools and congregations have led to concrete actions to address early and forced marriage and female genital mutilation."
ACT members have been involved in a variety of events at CSW over the past two weeks, focusing on the role of faith leaders in ending harmful practices, in the role of gender in achieving the vision of the Sustainable Development Goals to Leave No One Behind, engaging youth in gender justice and more.
The full text of the oral statement is here, and you can watch it here (beginning at 8:00):