Climate change impacts our life in various ways, but our generation will not accept that we deal with the effects of climate change as isolated problems.
March 15, 2019, was in many ways a memorable day.
Around the world, young people replaced their books and pencils with banners and messages urging world leaders to take climate action. For youth around the globe who participated in this day, the effects of climate change pose a variety of negative consequences upon their future.
In Denmark, where I live, we are experiencing some changes in the climate, but we are also one of the countries that are best prepared for these changes. In other countries, climate change is affecting people on a completely different scale. For example, in Uganda, living conditions are being turned upside down as changing rainfall patterns are making farming conditions unpredictable and unstable. In Bangladesh, rising sea levels are leading to a loss of land and livelihoods and displacing homes. In Ecuador, higher ocean temperatures are affecting fish populations and this is leading to a loss of livelihood for many.
These are some of the consequences of climate change. Our generation will not accept, that our leaders continue to deal with the effects of climate change as isolated problems. We know that climate change knows nothing about borders or fairness, and we know that we must all work together if we want to tackle the worst effects of climate change.
Therefore, we, youth from around the world left our schools and took to the streets on March 15th, relating to the message of the Swedish Climate activist Greta Thunberg, "why go to school when the world is burning…" Greta's message is relatable, as there was youth who could not go to school nor participate in the strikes due to the extreme weather phenomenon, Cyclone Idai which affected more than 3 million people across Zimbabwe, Mozambique, and Malawi.
The impact of this natural disaster is unfair for multiple reasons. First, as the average CO2 emissions of the people in Malawi, Mozambique, and Zimbabwe are among the world's lowest, they have contributed the least to the changing climate and to extreme weather phenomena. Second, it was an unfair coincidence that many youth were unable to participate in the strikes as they were coping with the aftermath of the Cyclone – the youth most affected by climate change did not have the chance to raise their voices.
According to the world bank, climate change will put an additional 100 million people in extreme poverty if we do not change the path of our global CO2 emissions. Those affected in the future will primarily be those who have contributed the least in CO2 emissions.
This is unjust! My wishes are that world leaders listen to our voices which we will rise again today and that they understand that we want them to panic. I also hope that our cries for climate justice bring hope to young and old people who are affected by extreme weather events.
As youth, we are being born into a world which is facing the biggest problem in the history of mankind. We want to make a change, and we know that we can do what is necessary!
Hope is what we need, and it is what we can give to each other. By striking and demonstrating as one on March 15th and again today on May 24th we are paving the way. We are showing that we can work together and make things happen across borders. We are showing that we care about what happens to one another and that a problem occurring in Malawi is also a problem for those living in Denmark, Ecuador, Uganda or any other country. We will not leave anyone behind.
Climate change has been created by mankind, and the good news is, that it is us who can hit the brakes on our CO2 emissions to tackle our climate crisis.
"What we do now, cannot be undone," said Greta Thunberg in her speech to the European Parliament – and she is right. If we want to fix the climate crisis, the world leaders need to be our heroes right now, not starting in the year 2050, not even starting tomorrow but starting today! If we want to succeed, they must know that we believe in them. It is, therefore, our job to give them the courage to make the hard decisions and the strength to Act Now For Climate Justice!
From Change Maker Denmark, we hope that you all have a good day of strikes and demonstrations.
_________________
Blog by: Mads Kruse, Change Maker Denmark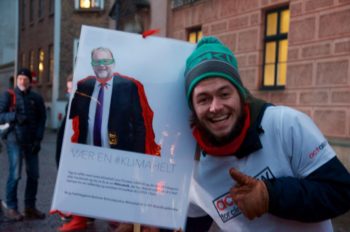 Mads is a volunteer project coordinator at Change Maker Denmark's Climate Initiatives. Mads is also a student at the University of Copenhagen, studying social anthropology.