A significant publication on ecumenical diakonia, providing a common platform for the churches and ecumenical partners worldwide for acting and reflecting together, has just been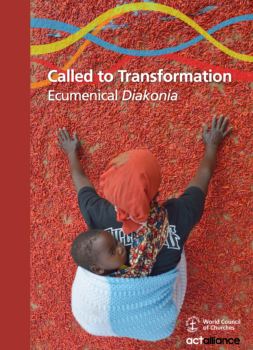 published by ACT Alliance and the World Council of Churches (WCC).
The joint publication, "Called to Transformation – Ecumenical Diakonia," provides the theological foundation for the humanitarian and development work carried out by ACT members around the world. "It not only helps churches to share ideas and lessons with each other, but also offers a prophetic perspective of being a church in challenging times", said ACT General Secretary Rudelmar Bueno de Faria in a presentation of the document on June 9. "This is motivating the joint work of churches and church-related organizations to promote justice, inclusion, and solidarity."
The document provides a solid base for discernment for churches and specialized ministries to address the complexity of issues facing humanity today, he added. It features resources to strengthen the diaconal capacity of the churches and to advance cooperation with specialized ministries.
"Writing of this document was a recommendation of the Malawi consultation in September 2014, when churches and specialized ministries' representatives from all the continents gathered to reflect on the work they are supposed to do together," said Prof. Dr Isabel Apawo Phiri, WCC deputy general secretary, in the presentation.
Besides adding the geographic and confessional contexts of practicing diakonia, the study document also addresses the diaconal response to the COVID-19 pandemic, with examples of diaconal ministry from every continent.
"With this publication, we now have a common understanding on diakonia – and that should take churches and their partners toward the next level of ecumenical cooperation in diakonia," said Phiri. The WCC central committee has recommended that churches and specialized ministries all over the world use it.
"In learning from each other, and in sharing, we can make a real difference to the lives of many people," said Rev. Karin van den Broeke, chief programme officer of the Kerk in Actie (Netherlands), moderating a June 9 presentation of the ecumenical diakonia document. Inviting everyone to discover the publication now available online, van den Broeke encouraged them to "move and act together on our pilgrimage of justice and peace in the world."
The publication "Called to Transformation – Ecumenical Diakonia" is available here:
ACT and WCC joint publication "Called to Transformation – Ecumenical Diakonia"