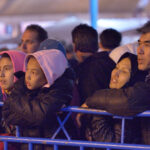 By Rudelmar Bueno de Faria
The war in Ukraine has been going on for more than a month and the eyes of the world have been focused on it sharply. On social media and traditional media, we are constantly reminded of the cruelty of war. The coverage of this crisis has been at times overwhelming. People and governments of the world have responded with their hearts and their donations to support Ukraine.
ACT Alliance launched a $21.5 million USD appeal, and ACT members across the regions have generously donated to the work of Hungarian Interchurch Aid, the Lutheran World Federation, and Swiss Church Aid who are still responding to this crisis by helping IDPs and refugees in four border countries. Other ACT members have contributed with their own programming, part of a massive Total ACT Response.
This outpouring of support is entirely appropriate as over 11 million people have been displaced by the war, and those affected will face years of hardship as lives and livelihoods, homes and communities will need to be rebuilt.
As general secretary of the ACT Alliance, I applaud everyone who is working to support those affected by this war. I hope that the response to the war in Ukraine, both in terms of the speed and the volume of the support, becomes the model for future humanitarian responses.
However, I want to discuss an important issue which has been raised by many of our members around the world. This is not the only huge humanitarian crisis we are facing today.
The fact that the brutality of this war is all over the news does not mean that other conflicts are less brutal or heinous. In Tigray, Yemen, and South Sudan, to name a few, the humanitarian needs are dire. There are millions displaced in and around Afghanistan, Syria, and DRC. And while billions in aid are flowing to Ukraine and its people, the same cannot be said for those who are facing other crises.
The problem is not that Ukraine is receiving too much aid. In fact, it needs as much support as it can get. The problem is that not enough aid is made available for all crises. Most crises around the world are significantly underfunded as responding NGOs like ACT, the UN, and local and regional authorities struggle to meet the needs of the millions impacted.
These crises are also often connected. For example, the war in Ukraine will have a devastating impact on Africa, where many countries are reaching near famine state, including South Sudan and Somalia. Much of the wheat imported into northern Africa comes from Russia and Ukraine. In 2021, those two countries were responsible for almost 25% of the world's exports of wheat. Those exports will likely not be available in 2022.
We are distressed to hear that some states are deviating ODA funding from other crises to support the Ukraine war response. Some are using those funds to support refugee resettlement within their own borders.
As Christians, our work draws on our faith, and our call is to support the most vulnerable everywhere and to work for a world where peace and justice reign, and the rights and dignity of all people are respected regardless of their race, creed, gender, or identity.
We call for a humanitarian funding system which is based on justice and solidarity, which does not discriminate on any basis – region, race, religion, gender, etc. – but responds to need as quickly and robustly as the Ukraine response has.
We call on states to continue and to increase support to all crises, be they natural disasters or conflicts, and to ensure that development aid is delivered to the communities impacted rather than diverted to fund, for example, refugee resettlement within Western countries themselves.
We call on the media to report on human suffering wherever it might take place, to discuss the reality of humanitarian need. Help to shine light on facts and the work of people to rebuild their own lives and communities, as well as on those around the world who support that work.
We call on all people of faith to continue to pray and work for a world of peace and justice, to promote and engage in dialogue, and to love our neighbours all over the world, supporting them as we are able.
Rudelmar Bueno de Faria is General Secretary of ACT Alliance.