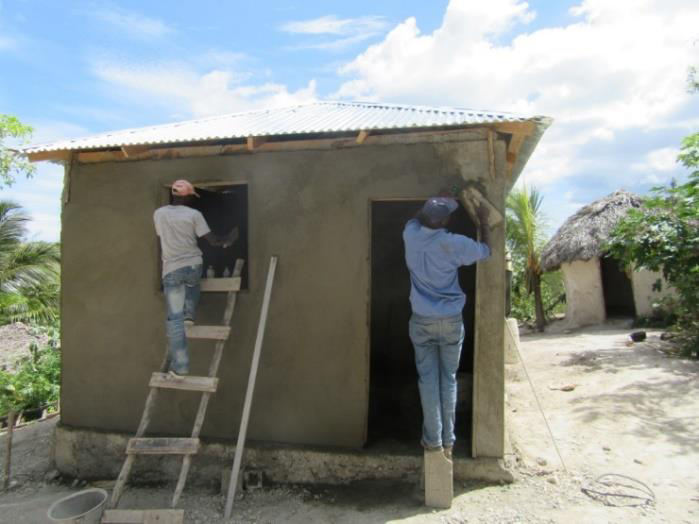 On October 4, 2016 a category 4 hurricane ravaged the Southwestern province of Grand Anse and the Lower Northwestern part of Haiti. The impact of Hurricane Matthew, which was responsible for a death toll of over one thousand people was intensified by a loss of agriculture and livelihoods, public infrastructure and the destruction of many houses.
"Thanks to God the children were not hurt, but I couldn't save anything. Rocks fell in the house, destroying my belongings. There was nothing left." – Marie Rose Thermie, a single mother to six children.
ACT Alliance member Church World Service (CWS) Haiti, and associated partners who are rooted in the affected communities assessed the extent of the damage of Hurricane Matthew. During this time ACT Alliance Forum members mobilized assistance with local partners which focused on providing food, shelter, water, sanitation and hygiene. It was evident that much of the destruction caused by Hurricane Matthew was a result of poor construction methods. ACT Alliance members committed to repair houses where possible, and to completely reconstruct houses where necessary.
"I didn't have a house to live in. Thanks to God and these organizations now I have a house. Now I feel like I live well, because when someone has a house that is the biggest grace of God. Every evening when you come from outside, you have to find a house to sleep in. Someone who doesn't have a house wonders where he will sleep. And now I have this house." – Selondieu Delva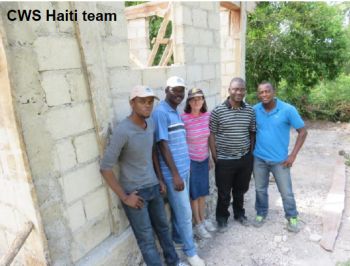 The repair and reconstruction process is inclusive, requiring the full collaboration of the families, ACT Alliance members, the communities in which they serve and local partner organizations. In a conscious effort to invest in the local capacities of communities, ACT member CWS held training sessions to equip families, community members and volunteers with information on secure building codes and construction methods under with the guidance of qualified engineers. This process has been successful in encouraging ownership of the projects, as well as ensuring that the knowledge and skills for improved construction methods remain within communities.
In instances where family members have not been not directly involved in the construction of the houses, they have been engaged other ways, including the gathering of materials or in the preparation of food for the construction crew.
"I did not understand how to build a house – it is ICEDNO [a local CWS partner] that taught me. It is the first time in my life that I understand how to build a house. We didn't have enough money to build such a house, nor was there an engineer. When we felt that our lives were in danger we looked for refuge at the school [built by CWS] to protect our lives. The wind was blowing and the rocks of the house fell down. The house was 18 years old. It had already collapsed two times before in strong wind (including hurricane Jeanne) and then I rebuilt it again. With these materials, the house will not fall down." – Lionel Pierre, a beneficiary of the ACT Alliance response and an active participant of the repair and reconstruction process for 18 houses.
The approach taken by ACT Alliance has helped to foster greater community solidarity as people came together to help each other. In addition, the sharing of information such as insight on the purchasing of materials and negotiation techniques for securing transportation to more remote areas has further facilitated solidarity.
In the 2017 hurricane Season, Haiti was again threatened by Hurricane Irma and Maria. While some houses that had already been affected from Hurricane Matthew were completely deteriorated, the houses that had been repaired by ACT Alliance members withstood the passage of the hurricanes.
The reconstruction and repair process has not come without challenges. First, there has been misconception that houses under construction with the presence of engineers is a house that belongs to a wealthy family. As a result, it has been sometimes difficult to secure community participation for the construction needs. In response, ACT members have encouraged a transparent process to inform the community of the repair and reconstruction project.
Second, there have been some instances where the budget of a house has been depleted before its completion, often due to poor financial administration. In response, ACT Alliance members have engaged with partners on training for improved financial administration.
Finally, much of the reconstruction happens in remote areas with limited accessibility. Construction projects have been delayed and sometimes completely stopped in instances of bad weather conditions which makes it difficult to transport the construction materials.
ACT Alliance member CWS has continued with the house repair and reconstruction project and intends to complete the remaining 50 of a total of 110 houses of the Hurricane Matthew response by April 30, 2018.
(Progress report January 1 – November 30, 2017)