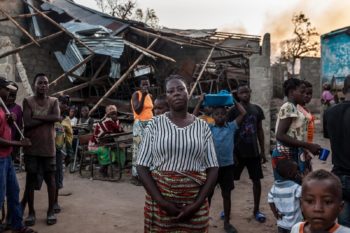 written by Erik Nyström, Finn Church Aid
Beira, Mozambique – Jacinta Francisco, 40, is from Beira and has five children. We meet Jacinta and her children at a temporary shelter set up in Muavi 1 Primary School. The school was damaged by cyclone Idai almost two weeks ago, and it now serves as a shelter for the most vulnerable families.
Before the storm, 2500 pupils attend the school, it is now closed because of the damages.
The day before the cyclone hit Beira, Jacinta was aware that a storm was coming, but she did not know how bad it would be. Jacinta decided to prepare dinner earlier than usual so that her family would have eaten before the storm reached Beira.
On the night of the cyclone, the wind blew so hard that coconut and mango trees were uplifted from their roots. The roof of Jacinta's house was blown away, bricks fell off the walls and her fridge and television broke. When Jacinta realised that they could die, she took her family and ran towards their mother's house, only to find her in the same situation. They huddled together in a room which they considered the safest and waited for the morning to come. When the day broke, they went to look for a shelter.
"At least no one from my family died," Jacinta said. "But the future seems very difficult, now."
Only the foundation of the house remained intact. Jacinta says that she has no money to rebuild her home. At the moment, she cannot think of anything else other than making sure that her children have something to eat. "That's the only thing I can do now."
Jacinta's family has no house, no clothes and no means to send her children to school. Only two of their textbooks were found in the ruins of the house. Jacinta used to sell tomatoes and other vegetables, but her stall and supplies were blown away. Jacinta's husband used to work at the school, but now he stays at the ruins, hoping to be able to fix something.
Life at the temporary shelter is difficult because the shelter is very crowded. The majority of those at the shelter are women and children. One of the classrooms has been allocated to men and older boys, and six to women and children. As the rooms are full, people are sleeping very close to each other on the hard floors. Jacinta says that the rooms are so full that it is impossible to even turn around. Many have chosen to sleep outside as there is more space.
Jacinta waits for the day when she can have a small, private space for her and her children, and a mattress to sleep on.
Threatened by cholera
Jacinta and her family have a shelter, but they are not safe from other dangers. Cholera is now a big threat to all, and the number of people affected is rising rapidly. Earlier this week, the UN declared that cholera has affected at least one thousand people in Beira.
The precarious health situation frightens Jacinta. She feels uncomfortable living with so many people and hygiene is lacking. According to her, not everyone uses toilets for their needs. She also worries about the quality of the water – there is no way that she can make sure that it is clean.
ACT Alliance members have joined local partners to fight cholera and other diseases in Mozambique. Partners have started to hand out water canisters and water purifying equipment in Beira and in the surrounding areas.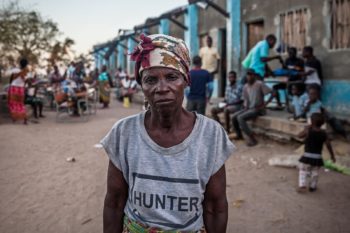 At the same shelter where Jacinta lives, we met Adelia Manhazo, who does not know her age, but guesses she must be around 60. She has four children and no husband.
In Beira, people lost their home but also their livelihoods. Most of the people at the shelter were street vendors selling bananas and tomatoes. Some used to cultivate their own plots of land.
Adelia says that she appreciates that she gets food at the shelter, but she is suffering a lot. Her house and her source of income were swept away in one single night. She used to farm her own plot and earned money by working on other people's land as well.
She has no idea what she will do on the day that she will be sent away from the shelter. Adelia is not alone as many of those who are currently at the shelter have the same worries.
Adelia was at home with her four children and her cousin's baby when the storm hit. When the winds were at their worst, her neighbours came to rescue her and her children. She let them take the children but refused to leave her home until they forced her. Just after they escaped, she saw the house collapsing.
They all sought refuge in a school. Adelia explains how almost every morning after breakfast, people from the shelter wander back to their damaged homes to see if there is anything that they could do to restore their property. Two weeks after the storm it is still hard for them to accept that they have lost so much.