Through a declaration of commitments, ACT Alliance Gender Justice Community of Practice in Latin America and the Caribbean joined the call to "Accelerate the promise for the defense of the rights and freedom to decide of all people", made by the Nairobi Summit +25, that in November 2019, review the goals of the International Conference on Population and Development – ICPD- of Cairo (1994).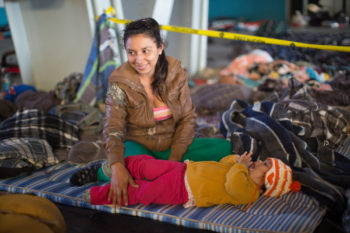 Three goals have been set by UNFPA by 2030 within the framework of the ICPD: 1) zero preventable maternal deaths, 2) zero unmet need for contraception, and 3) zero women and girls victims of violence and harmful practices.
"As churches and Faith Based Organizations (FBOs), we recognize in this framework, a key platform to promote a dignified life for all people in accordance with our Christian perspective based on the promotion of rights," the statement reads. It was shared at the regional preparatory meeting of Nairobi + 25, held in Puebla, Mexico, on September 24-26.
"This statement was supported by a total of fifty-five churches and FBOs– ACT members and their partners– in 9 Latin American countries, which demonstrates the great will and concrete commitment of Christians in the promotion of the rights of women, girls and the LGBTIQ + population. This is a sign of hope in a regional context marked by economic, political and religious fundamentalisms that promote exclusion and inequality," said Laura Chacón, the chair of the ACT CoP Gender Justice in LAC.
This statement is an input for the drafting of the global declaration, which ACT Alliance will take to the Nairobi Summit +25 in November, and to which other regional expressions will be added to reach these commitments that ACT Alliance endorsed through its Gender Justice Policy, which it adopted in 2017.
In the statement, Latin American and Caribbean ACT Alliance members commit themselves to develop actions to promote and strengthen strategies for pastoral action based on the dignity and rights, which prioritize prevention, detection and care of rights in cases of feminicidal violence, sexual violence, adolescent pregnancy, maternal and child mortality, as well as the promotion and defense of sexual and reproductive rights.
These commitments that aim to accelerate the fulfillment of the pending goals of the Nairobi Summit + 25, are also part of the work plan of the ACT JG CoP in LAC. Download the statement in Spanish and English.