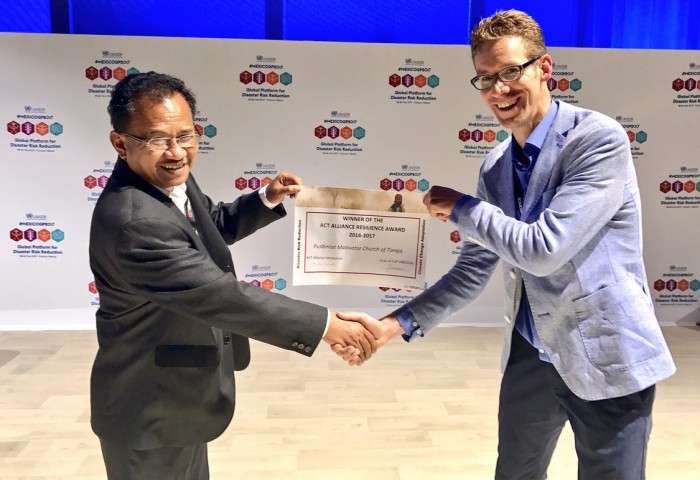 TORONTO, Canada, 9 June 2017. The ACT Alliance Disaster Risk Reduction- Climate Change Adaptation Award (ACT DRR-CCA) for 2017 was awarded to the Lighthouse Project in Indonesia implemented by Pusbinlat Motivator Toraja Church in partnership with ACT Alliance members ; Bread for the World and Diakonie Katastrophenhilfe Presented during the 2017 Global Platform on Disaster Risk Reduction in Cancun, the award highlights the work of the ACT Alliance and Faith Based Organizations responding to climate change.
"I was very happy to receive the award. The award gives motivation to those of us who work in remote areas, who are in many cases experiencing discrimination in terms of development and are encouraged to do better," says Tandu Ramba from the Pusbinlat Motivator who accepted the award.
The Lighthouse Project is implemented in three villages of Tana Toraja, South Sulawesi, Indonesia and is focused on sustainable community development, climate change, and disaster risk reduction. "All activities take environmental conservation into consideration. The most powerful lesson learned from this project is that poverty can be reduced without destroying the environment," says Tandu.
The project establishes various initiatives. Disaster risk reduction teams and an early warning system have been set up by villagers to monitor and respond to disasters including landslides and forest fires. To date, the project has empowered 176 women in the three villages through training programs encouraging alternative livelihoods and the monitoring of planting seasons. As part of the project, a climate field school works with villagers to address problems related to a changing climate, and to develop seasonal planting calendars.
"The most vulnerable people often live in remote areas where a lack of resilience is caused by poverty. Often, remote communities contribute significantly to the mitigation of climate change but rarely get any appreciation from other parties who produce emissions," Tandu said.
"Disasters strike people all over the world, without paying attention to borders, ethnic groups, religion, etc. Strengthening resilience is a responsibility for all of us," says Jeroen Jurriens, the head of the ACT Alliance delegation to the Cancun conference.
"At ACT Alliance we link the local to the global level. We let people like Tandu talk to stakeholders in the international arena directly. It is our firm belief that those living in disaster prone areas are in the best position to explain their context and be involved in finding solutions," Jeroen continues.
"Through the ACT Award, I hope that people can appreciate our efforts in protecting people from various hazards," says Tandu.
The ACT DRR-CCA is awarded annually to an ACT Alliance member who has demonstrated innovation and best practices preparing communities to respond to disasters.
ENDS
________
For media inquiries, please contact:
Joanna Patouris, ACT Alliance, Climate Change Communications Coordinator
Email: joanna.patouris@actalliance.org