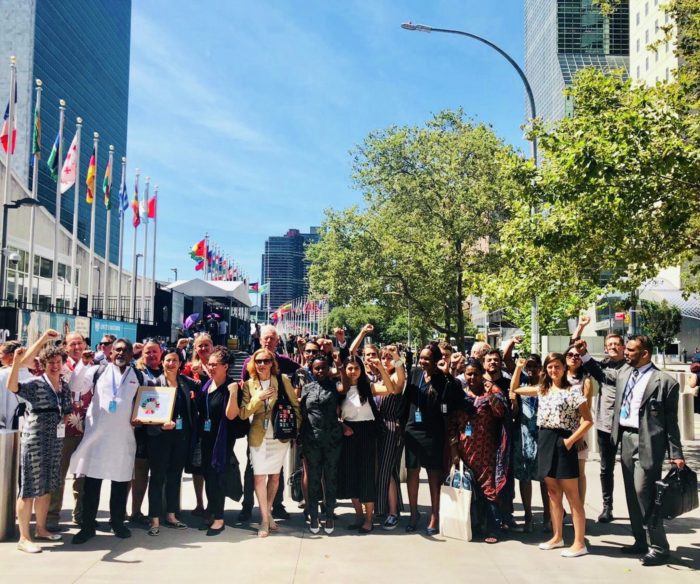 NEW YORK, 17 July 2019 – Activists from across the world today declared the Sustainable Development Goals – agreed by the international community in 2015 – under threat, due to inaction on climate change, rising inequality and increasing repression of peaceful civic activism continue to rise.
Meeting alongside the High-Level Political Forum at the United Nations in New York, a broad alliance of civil society organisations came together to demand greater ambition from governments as they plan for key UN Summits in September.
Dozens of organisations have issued a new declaration, "Stand Together Now for a Just, Peaceful and Sustainable World" stating, "We are standing alongside many others around the world in calling out a state of emergency. Humanity cannot afford to wait, people are demanding transformative change, and we are not willing to accept the current lack of action and ambition from many governments."
The joint call to action comes from a vast range of organisations, including those working on fighting inequality, humanitarian assistance, human rights and climate change, such as Action for Sustainable Development, ACT Alliance, ActionAid, Amnesty International, CAN, CIVICUS, CPDE, GCAP, Greenpeace, Oxfam and Restless Development.
Inequality is rising, with the 26 richest billionaires now owning as many assets as the 3.8 billion people who make up the poorest half of the planet's population. The climate emergency is worsening, with the United Nations saying we could have just 11 years left to limit a climate change catastrophe. A global crackdown on human rights means that only 43 UN member states are currently meeting their commitments to uphold the fundamental civic freedoms of expression, association and peaceful assembly.
At the same time, the majority of countries that have signed up to the Sustainable Development Goals (SDGs), are not making the progress needed to avert a global break down.
"The drive to reach the SDGs is careening off course," said Emmanuel Ametepey, from Youth Advocates Ghana. "Just four years ago all UN member states signed-up to a radical new agenda by 2030," he said. "Ten years might sound like enough time, but we are already falling badly behind.
"Young people are ready to take the lead."
"More people across the world are suffering as a result of the increases in extreme weather events, rising inequality and crackdowns by the government on human rights., Young people are bearing the brunt of it all," said Catherine Njuguna, ACT Alliance youth ambassador.
Speaking outside the UN, Farah Kabir, Director of ActionAid Bangladesh, said: "People are increasingly frustrated at the slow pace of change. Since 2015 we have seen many countries presenting their progress reports at the UN, but we know change is not being felt on the ground. Inequality is growing, and many organisations and people are being oppressed across the globe."
"We are announcing a state of emergency for people as well as the planet," she added.
Global Co-Chair of Global Call to Action against Poverty, Beckie Malay said: "Many national coalitions of civil society actively engage with the UN's High-Level Political Forum, they provide real evidence and clear recommendations, but in many cases, they don't see these proposals reflected in government action plans.
"Unfortunately since 2015, it seems that there is regression on the key areas of inequality, rights and climate. We cannot stand by and let this happen; that is why we are standing together in countries around the world over the coming months to demand real action."
Coordinator of Action for Sustainable Development, Oli Henman said: "We have been working together over recent years to ensure that national organisations can be heard by the UN during the Voluntary National Reviews. However, we see real challenges in many countries, including reducing engagement opportunities, limited consultation and in a number of cases increasing attacks against civil society organisations."
Over the coming month, organisations will be stepping up their joint actions and will stand together in a joint Global Week of Action from 20-27 September, with key mobilisations planned in over 30 countries.
Read the joint declaration in full statement and sign up to show your support here.
ENDS
For further information, please contact:
Arnold Ambundo, Global Climate Justice Coordinator, ACT Alliance, Arnold.Ambundo@actalliance.org
Joanna Patouris, Climate Communications Officer, ACT Alliance, joanna.patouris@actalliance.org