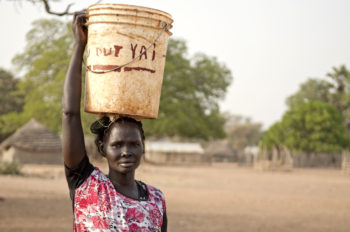 Representatives of member states are gathered this week and next at the UN in New York City for the 63rdCommission on the Status of Women. ACT Alliance members from around the world are among the thousands of representatives from civil society who are also at CSW advocating, sharing, learning, and discussing issues of gender justice.
The theme of CSW this year is "Social protection systems, access to public services and sustainable infrastructure for gender equality and the empowerment of women and girls."
ACT members are very much aware of the need for social protection and the critical role it plays in ensuring gender equality, addressing the particular challenges faced by women and girls. "Governments can learn from the long-standing experiences of faith actors, who are often at the forefront of providing services that 'leave no one behind'," said Rudelmar Bueno de Faria, General Secretary of the ACT Alliance. "Faith communities' skills, access to communities, and sustainable structures make them ideal partners to work with governments."
While churches and other faith-based organisations have a long history of providing social services, ACT is clear that it is the responsibility of the government to provide social protection. "Governments should ensure that systems of social protection are anchored in law and comply with international human rights standards, and should engage with different actors in society including faith based organizations and other civil society actors in developing policies on social protection with the aim of promoting accountability, efficiency, and inclusivity in the delivery of social protection systems," de Faria added.
Members of the ACT delegation come from around the world, bringing their own experiences and stories to illustrate and underscore the importance of social protection to ensuring the empowerment of women and girls.
"Women and girls in South Sudan face multiple intersecting impacts of conflict including extreme poverty, insecurity, gender-based violence, sexual violence and exclusion from participating in peace processes and decision-making," said Agnes Petia, Coordinator of The South Sudan Council Of Churches' National Women's Programme (SSCC-NWP).
"Our work at SSCC-NWP is empowering women with skills to bridge the gender gap and participate effectively in peace processes," continued Petia. "The NWP is pushing for access to adequate and functional social protection systems– including healthcare and legal assistance– to allow women to access psychosocial support for trauma healing and for their equal enjoyment of human rights so as to improve their lives and well-being. This however can all only be achieved if there is sustainable peace."
ACT will continue to push governments to take responsibility for social protection and for extending those protections in ways that will enable gender equality both for the remainder of CSW63 and afterwards in the nations of the world.
To learn more about ACT's position on social protection, please read the Sigtuna Statement on Theology, Tax and Social Protection Diakonia in the Time of Inequality, which can be found here.