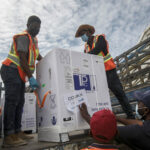 As the G7 Health Ministers stated, with the rise of Omicron, "[t]he global community is faced, at a first evaluation, with the threat of a new, highly transmissible variant of COVID-19, which requires urgent action." (G7 Joint Statement on the Omicron variant) We, at ACT Alliance, appreciate the G7 Ministers' recognition of the strategic relevance of ensuring access to vaccines while also providing operational assistance, taking forward donation commitments, and tackling vaccine misinformation, as well as supporting research and development. However, we worry that this rhetoric will not translate into action. We are particularly concerned that 'donors' often fail to deliver on their commitments and/or to give good advance notice of upcoming donations, coordinate with 'receiving' governments, and to share adequate doses that have sufficiently long 'shelf lives'.
Some of our members and faith partners (See, for instance, call for endorsements related to a faith-based statement calling on the WTO to urgently waive patents.) have already highlighted that failure to properly rollout vaccines globally is costing lives and is further delaying the end of the pandemic. For instance, jointly, ACT EU members have been working on targeted and concrete action focusing on the inaction of Member States (See more at Vaccines for all: time for the EU to rise to the challenge (brusselstimes.com).) Inaction is not only unwise, as it stalls our ability to revert back to a new normal and to recover from the social and economic shocks of this crisis, it is also a moral failure. Whereas in Global North countries like Portugal vaccine coverage is remarkable, only 6% of people in low-income countries have received at least one dose- a far cry from the whopping 54.5% coverage globally. This is wildly unjust and unfair.
What is needed to tackle the current vaccine apartheid? In the ACT Alliance vaccine equity brief, we warned back in July 2021 that we would not see the end of the pandemic until everyone, everywhere, was safe and vaccinated. To make sure calls to tackle Omicron translate into concrete outcomes, we urge countries housing vaccine production and those with large vaccine stocks to:
Immediately share doses, guaranteeing affordable prices, fair allocation and prioritisation while taking into consideration the price in relation to GDP.

Resolve liability issues and avoid distributing vaccines too close to expiry or those coming in slow waves between doses.

Based on the available scientific evidence, commit to at least 5% of overall supply to equitable vaccine distribution and prioritise vaccine equity over booster shots.

Increase production and transfer capacity, technology and production, temporarily waiving patents and IP rights to enable manufacturing in the Global South as well as sharing of technology and know-how through the C-TAP mechanisms.

Be responsive to where there is untapped potential and a strong call from faith leaders in relation to the moral responsibility to value human life and dignity above all else.

Ensure COVAX is inclusive and responsive to civil society's demands as well as supporting the initiative for a treaty on global pandemic preparedness that protects the health and livelihoods of all.

Prioritize high risk groups including the people living with HIV/AIDS, people with palliative care conditions, the key and most vulnerable populations.

Create a more robust form of global pandemic preparedness that protects the health and livelihoods of all, that strengthens public health systems and recognises the fundamental role played by civil society actors, in particular faith actors, in COVID-19 mechanisms.

Remove ineffective travel bans from countries who have shared the information about new variants, which only impose economic hardships on these nations without effectively slowing the spread of the variants.

Reject the immoral prioritisation by manufacturers of new vaccine supplies to Global North countries with high rates of vaccination and instead prioritise the fulfillment of commitments to the COVAX Facility.
In summary, we call for action and an end to the empty political rhetoric. We must protect our common home and our brothers and sisters with the same passion and energy as we protect ourselves. As ACT Alliance, we are a Christian network and we share with our constituencies and those of many other faith-based networks the basic thirst for global justice. We think the issues formulated above are part of the long road to global justice.

We also urge all Global North countries to call out blockages and maneuvering as well as to put an end to fallacies that argue that vaccine hesitancy is an adequate reason to avoid the sharing of doses. Evidence has clearly shown that there is uptake when vaccines are available and distributed in a predictable way. We therefore demand all countries to end vaccine inequity.
Rudelmar Bueno de Faria
General Secretary, ACT Alliance
——
ACT Alliance is the largest coalition of Protestant and Orthodox churches and church-related organisations engaged in humanitarian, development and advocacy work in the world, consisting of more than 140 members working together in over 120 countries to create positive and sustainable change in the lives of poor and marginalised people regardless of their religion, politics, gender, sexual orientation, race or nationality in keeping with the highest international codes and standards.