Super Typhoon Mangkhut known locally as 'Ompong' made landfall in Baggao, Cagayan in the Philippines on September 15, 2018, at 1:40 AM, carrying winds of up to 200 km per hour and heavy rainfall. "It was the longest and strongest typhoon that we have ever experienced in our area," said Gil Oamil, a rescue responder from the Centro 1 Barangay in Sanchez-Mira.
An early warning system notified residents of the typhoon two days before making landfall allowing families to get to the nearest evacuation centre. The tropical cyclone lasted 18 hours, wreaking damage to the community and destroying livelihoods.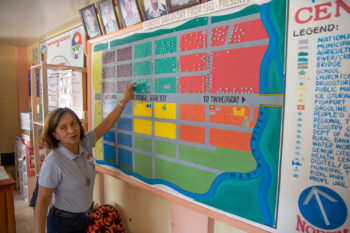 ACT Alliance member the National Council of Churches in the Philippines (NCCP) was the only organisation to provide support to the Centro 1 Barangay in response to Typhoon Mangkhut. Centro 1's Barangay Captain, Melbina Mangasing, who is involved with the local church, coordinated with the local bishop and NCCP around meeting the needs of the Barangay. As ACT members are rooted in the communities which they serve, NCCP was able to quickly respond to the immediate needs of the Barangay.
NCCP distributed food packs consisting of rice, sugar, legumes, dried fish, canned food, biscuits, salt, oil and other food items to thirty-eight families. As each food-pack could feed a family of five for two weeks, NCCP helped to alleviate hunger until families were able to return to their livelihoods.
Despite the strength of the typhoon, ongoing emergency preparedness initiatives from the local government in collaboration with churches limited human suffering in the Barangay.
The Centro 1 Barangay community centre conducts disaster preparedness training twice a month where senior citizens, widowers and other vulnerable groups are urged to participate. Before Typhoon Mangkhut, residents received training on how to secure their homes from strong winds and heavy rainfall. Other capacity building sessions offered include preparedness and response to tsunamis, earthquakes and fires.
Residents are also encouraged to ensure that they keep a fully equipped emergency pail in their homes, consisting of canned food, water, a first aid kit, a radio, a flashlight, extra batteries, clothes and other essentials. Many families relied on their emergency pails once the typhoon made landfall.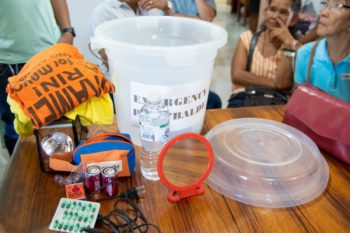 "The trainings are critical to ensuring that everyone in the community is prepared for an emergency," said Mangasing. "Because of our efforts in this Barangay, we were more prepared than we were last time."
As the Philippines is particularly prone to typhoons and other disasters, emergency preparedness and disaster risk reduction initiatives will remain essential for the resilience of the Filipino people. NCCP will continue to work with local government units in the areas which they responded to Typhoon Mangkhut to build the capacity of communities to better cope with disasters.