As COP26 began on 31 October and runs through 12 November, faith-based leaders are raising their voices in unprecedented ways. A newly released 15-minute video co-produced by the World Council of Churches, Lutheran World Federation and ACT Alliance portrays a candid, passionate conversation about what churches and faith communities can and should be doing to ensure every voice is heard not only at COP26 but beyond.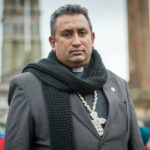 During the video, Rev. James Bhagwan, general secretary of the Pacific Conference of Churches, reflects that many Pacific communities are on the frontline of climate change, and they have very hard decisions to make. "Do they move?" he said. "What does that mean when they have to uproot themselves?"
Fernanda Zuñiga, a Lutheran World Federation delegate from Chile, underscores the importance of including the voices of people who have been underrepresented, such as women and young people. "It's important that people of faith and their leaders raise our voices for them," she says.
They video portrays why it is vital that church leaders advocate for the importance of wealthy countries fulfilling their financial obligations to less developed countries for loss, damage and adaptation.
Julius Mbatia, ACT Alliance's Global Climate Justice programme manager, based in Nairobi, says we need a COP26 that sets momentum for a multilateral system that stands in solidarity with vulnerable and marginalized communities.
"I think crucially, is always the question of speaking truth to power, being able to give voice to the voiceless, and women and girls have been essentially left behind a lot," he said. "Young people have been left behind a lot."
Ultimately the conversation points out that all voices matter when it comes to the climate emergency, as the discussion also underscores the moral imperative of working for climate justice.
"We need to basically lift the level and recognize that whether you're a negotiator, a head of state, or a young person coming in from a community, your voice is equal and that's very important in the process," says Bhagwan.