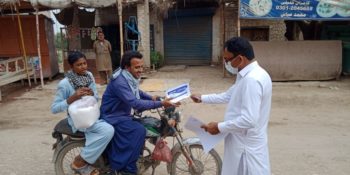 Mukesh working with Community World Service Asia in Umerkot shares his experience of the current situation. "The closure of offices have put on hold all activities. People are living in isolation, shops are closed and no one is risking going out.
Mostly daily wagers are suffering due to the current lockdown situation. They do not have the resources to serve to their families as they cannot earn money at this time. During my interaction with some people regarding COVID-19 awareness, a labourer, Ghulam Hussian, shared that fifteen workers, including him, have not been able to work at the construction site as a result of the lockdown. Jobs have been finished as the contract ended.
Government and district administration are taking initiatives to combat with the virus. They have formed committees to build awareness and sensitize people regarding coronavirus. A local shopkeeper, Ramzan, in Malkani Sharif shared that he has limited resources to sell in his shop. He fears that if he run out the resources, it will get difficult for the people in the community as there are limited shops that sell essential goods in Malkani Sharif. People will have to travel long distances which is more crucial as the lockdown has forced public transportation to stop.
This is a scary situation for my family. I am the sole bread earner in my family. If the situation is not controlled and this lockdown is extended for more months to come, it will become difficult to manage resources. I am very anxious due to the current situation, because there are some people who are not taking this situation seriously. They need to take preventive measures in order for things to become normal again.
As a responsible citizen, I am taking steps to build awareness among my family and relatives. I am constantly sharing news and updates on social media and advising people around me to follow the instructions given by the government of self-isolation, staying at home and avoiding gatherings. Moreover, a group of us, mostly my friends, have distributed one thousand brochures which provide information to prevent the spread of this disease in Badin and Umerkot districts. In addition, we have also provided food assistance to the vulnerable communities."