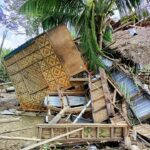 From a report by Joselito Sosmena
In mid December, Super Typhoon Rai made landfall in central and southern Philippines, causing massive damage. Super typhoons like Rai have affected the Philippines with depressing frequency since Super Typhoon Haiyan landed in 2013. Super typhoons are linked to rising ocean temperatures, making the Philippines one of the countries that is most directly affected by the climate crisis.
"I remember Super Typhoon Haiyan. There were endless lines for water, queues in banks for money wire transfers, overpriced gasoline, and food was scarce," says Joselito "Lito" Sosmena, who worked on NCCP-ACT Alliance's 2013 Typhoon Haiyan humanitarian response. "Eight years later, it has happened again but now more areas are experiencing the same fate."
Typhoon Rai, known locally as Odette, caused massive damage in southern and central Philippines including in Bohol, where Lito's family lives. As of this writing there are 375 casualties, an estimated 3,800 houses have been destroyed by the typhoon, and more than two million people have been displaced. Meeting basic needs with food, potable water, hygiene kits and temporary shelter is difficult.
COVID-19 and the increasing threat of the omicron variant has complicated matters. Lito's mother was diagnosed with COVID-19 the day before Typhoon Rai landed. She went to hospital with difficulty breathing, leaving her husband at home with their three grandchildren.
When the typhoon landed, the nearby river flooded, and the waters rose to the level of Lito's parents' roof. "Our house was wiped out in a snap, along with all our belongings," said Lito. This included a small store, animals and a fishing boat, essential for the family's livelihood. His mother's illness was added to the family's difficulties. "How can my mother be quarantined at home when there is no house left for her to go to?" he said. Ultimately relatives provided temporary shelter for his mother's quarantine, but the family still had challenges accessing medicine.
Five days after Typhoon Rai's landfall "our people still lack access to safe water, power and communication lines," said Lito. "It seems like the lessons we learned from Typhoon Haiyan have been forgotten."
"I hope that in our united efforts and continuing call for accountability from the government, we will recover stronger," he said.

For more information contact Sylwyn Sheen Alba-Salvador
Networking and Advocacy Officer, National Council of Churches in the Philippines (NCCP)
Coordinator, ACT Philippines Forum